"Once you show a girl her superpower, certainly she will use it to empower others. I had the privilege to first meet my own superpower while attending robotics classes at school when I was 6 years old, where my teachers stimulated me and my friends to propose solutions to our community problems using technology. In high school, I met my first mentor, Andrea Bittencourt. Together we found the robotics team Autobot and started giving robotics classes on public schools. Through education, my superpower was finally causing a meaningful impact – I was using my tech skills to empower others. Nowadays, I study Electrical Engineering. Studying engineering has always been natural for me. But as a black woman, I started asking myself, "why am I the only black woman in these robotics tournament and science fairs?" Or "why have I never had a black teacher in tech subjects?" Worries that took me to an important decision: I will fight against this gender and race inequality. I didn't want to be a black woman in tech alone.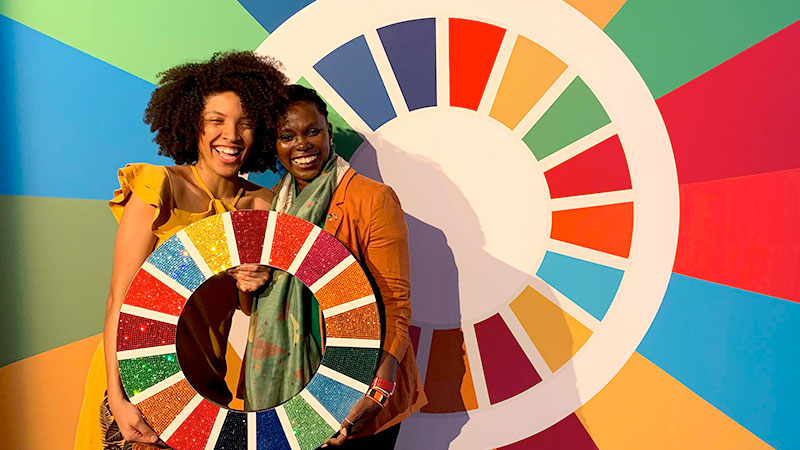 One of the big accomplishments I have had was being invited as a Brazilian iamtheCODE Ambassador by Marieme Jamme. We first met in 2017 at the G(irls20) Summit,  where I attended as a Brazilian Delegate. There she spoke about how we need to invest in women and girls and introduce them to the digital universe.  I felt so honored with her invitation! That was a life-changing opportunity for sure and I promised myself I would give my best to make her proud.
As an Ambassador, Marieme and iamtheCODE's team gave me real responsibilities: I was a mentor on the first Hackathon in São Paulo in 2017, where we met inspiring girls with powerful stories; in 2018 I organized the girl's logistics for the Hackathon in Recife and in 2019 me and my friends launched the first digital club in Salvador. I have also improved my public speeches and project planning abilities. Most importantly, I have learned how to be a good mentor to the girls.
IamtheCODE has also taken me to levels I couldn't even imagine. Marieme takes me with her to mainly all of her meetings when we are together, in spite of where or who is there. For me this is extremely important, not only for the opportunity to connect with those people and show my own story, but especially because it shows that Marieme trusts me and believes in my potential, and this is powerful and encouraging for a girl that is growing, as I am.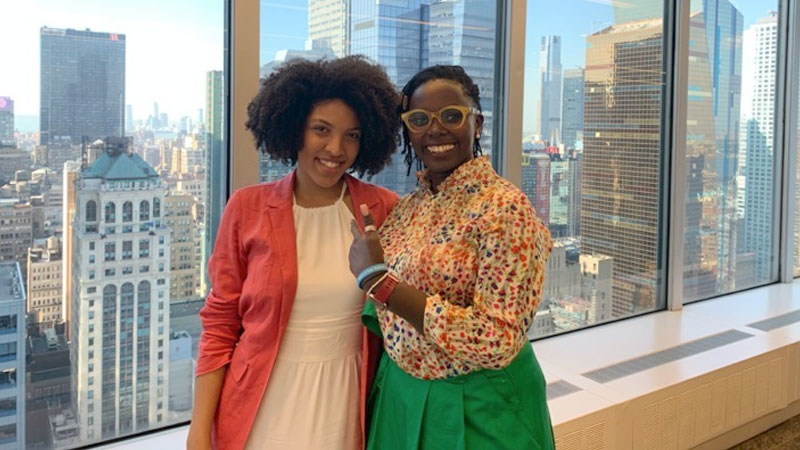 However, even with all this growth, for many times I got caught up in doubt about my capabilities. It is cruel how the racism beats our confidence – it was weakening my superpower . With this in mind, in September 2019, I accepted Marieme's invitation to support her in New York at the SDG Action Zone and at the event in Nazdaq in honour of the Kakuma refugee girls. As a lovable and caring mentor, she gave me a gift: the book Becoming , from Michelle Obama. I have always seen Michelle Obama as a powerful, strong and inspiring woman, but reading Becoming gave me a realistic view about what is being a leader: having fears and doubts about yourself are also part of the role. I have faced many situations she also have, and so have Marieme: being the only black woman in the room, for example.
As Michelle says,  "our worries could mostly be filed under one general headings: Am I good enough?" but, "the important part of my story, […], lays less in the surface value of my accomplishments and more in what undergirded them – the many small ways I'd been buttressed over the years, and the people who'd helped build my confidence over time."  And Marieme, through iamtheCODE, her powerful mentorship and her lovable friendship, has been teaching me how to write my story differently. I hope I can also encourage other girls to do the same."