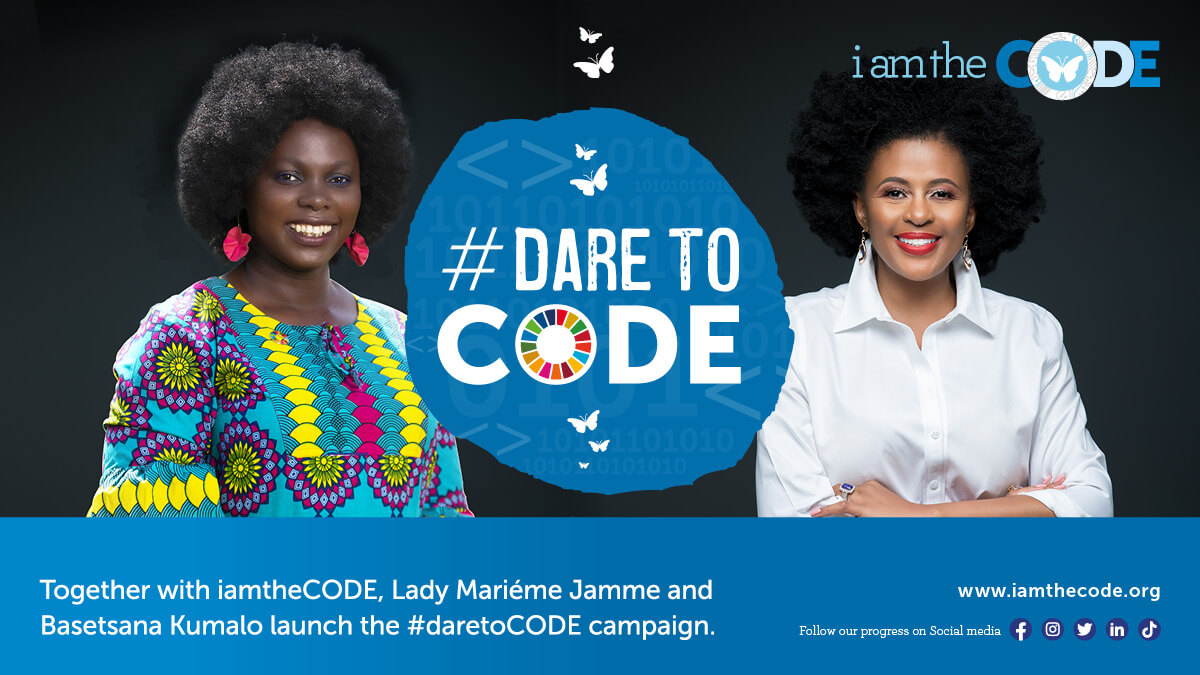 New York, 20thSeptember 2022,
In the spirit of advancing the 17 Sustainable Development Goals of the United Nations, iamtheCODE is excited to announce its Dare to CODE campaign in partnership with Skillsoft in New York to enable young women and girls from marginalized communities to learn how to code. iamtheCODE launched its first Digital Learning Platform in March 2022.
The Dare to CODE Campaign is an urgent call to government, private sector, and investors to enable young women and girls to gain access to Digital Skills. During the Transforming Education Summit on 16, 17 and 19 September 2022 and the World Economic Forum Sustainable Impact Meeting in New York, iamtheCODE asked world leaders to put coding at the core of their Agenda and make it compulsory and to accelerate systems innovations on education, skills and learning.
iamtheCODE, in partnership with Skillsoft, has developed a 12-week blended learning curriculum that includes learning resources from Codecademy, recently acquired by Skillsoft, which covers up to four programming languages that businesses are looking for to hire young talent. The material offered by iamtheCODE is combined with Codecademy's hands-on 'Practice Lab', which enables the practical application of theoretical knowledge. iamtheCODE also offers marginalized young women and girls' certifications and the possibility of accessing the platform both offline and online. iamtheCODE does this by giving access to learning hardware and software.
To help launch this campaign, iamtheCODE's Patron, Basetsana Kumalo during her presence in New York, said:
"I am delighted to be the Patron of iamtheCODE and attend the UNGA 77 to support this mission. With the 4th industrial revolution, coding is not a luxury but a necessity for the survival of humanity. The reality is that the face of poverty in the continent is female and to break that cycle of poverty, we need to get girls and women coding, which is a core skill required to positively impact lives and thereby generations. We need coding to be made compulsory and part of the school curriculum in Africa"
Lady Mariéme Jamme, the founder of iamtheCODE, said:
"We are truly grateful to have our patron present in New York for this historical moment. This week is a very important moment for iamtheCODE to tell young women and girls loudly and clearly to Dare to CODE. iamtheCODE has built a platform to allow them to do this. This Gift is for them. Nothing stops them from becoming excellent Coders and contributing to their Global Economy in the Future. I believe if young women and girls dare to code, the world will see great changes in technology and innovation."
Dr Malik Yoba – Actor/Storyteller/Founder CEO Yoba Development said:
"If young women don't code, we will never solve the other half of our problems.
It's very important to continue to promote the value of our participation in technology because that's where our freedom lies and the more, we understand the usage of technology but how we can be the creators of IP that will drive business industry, education, healthcare, opportunity, economic development and growth and technology can do that. I applaud you Lady Mariéme for the work you are doing"

David Moinina Sengeh- Minister of Basic and Senior Secondary Education and Chief Innovation Officer for the Directorate of Science, Technology and Innovation in Sierra Leone and Co-Chair of the Transformation Education Summit said:
"The work iamtheCODE is doing is really important especially for girls because digital literacy, computational thinking are primary skillset that everyone should have. We in Sierra Leone are truly behind this initiative and fully support it." in Sierra Leone.
Jeff Tarr, CEO of Skillsoft said:
"We are honored to partner with iamtheCODE, helping to provide young women and girls with a strong technical foundation along with the problem-solving, teamwork and critical thinking skills that coding requires," said Jeff Tarr, CEO, Skillsoft. "The Digital Learning Platform is designed to prepare young women and girls for a growing digital economy with the technical certifications and leadership skills needed for success in the 21st century. iamtheCODE is inspiring a generation of young women who will be active participants in the global economy, and we are thrilled to play a small part in their growth"
In addition to the Coding curriculum, iamtheCODE has also developed nutritional content in partnership with Unilever through iamtheFOOD, a program that helps to educate girls on nutrition and food and improve their well-being by taking care of their bodies and self-esteem to live a purposeful and healthy life.
With the help of partners such as Unilever, iamtheCODE is bringing health awareness to underprivileged communities.
———-
About iamtheCODE
iamtheCODE is the first African-led global movement to mobilize governments, the private sector, philanthropic foundations, investors, and civil society to advance STEAMED (Science, Technology, Engineering, Arts, Mathematics, Entrepreneurship, and Design) education. Its goal is to mobilize multistakeholder to invest in future technologies that can drive sustainable development for women, girls, and youth in marginalized communities worldwide. A fundamental pillar of iamtheCODE's work is empowering women and girls worldwide, aligning with critical elements of the United Nations' 17 Sustainable Development Goals (UN SDGs).
iamtheCODE is one of the fervent UN Sustainable Development Goals Advocate. The Organization has been recognized by The United Nations High-Level Economic Empowerment, the World Economic Forum, UN Women, Unilever, UNHRC, and UN GLOBAL COMPACT for bringing together multi-stakeholders, including governments all over the world, to ensure that by 2030, all girls and boys complete free, equitable and quality primary and secondary education leading to relevant and useful learning outcomes. By 2030, our mission is to get 1 million women and girls' coders 2030.
Through iamtheCODE, youth from underprivileged backgrounds engage hands-on with the UN Sustainable Development Goals, build innovative solutions, and learn how to code. This exercise not only helps them develop the skills they need to succeed in STEAMED (Science, technology, Engineering, Mathematics, Art and Design) fields, but it also enables their creativity and understanding of world pressing problems such as Climate change, Peace and Justice, and Gender Equality.
Hashtags to use: #occupytheunitednations, #daretocode #iamthecode #connectivity
———-
About Skillsoft 
Skillsoft (NYSE: SKIL) is a global leader in corporate digital learning, focused on transforming today's workforce for tomorrow's economy. The Company provides enterprise learning solutions designed to prepare organizations for the future of work, overcome critical skill gaps, drive demonstrable behavior-change, and unlock the potential in their people. Skillsoft offers a comprehensive suite of premium, original, and authorized partner content, including one of the broadest and deepest libraries of leadership & business skills, technology & developer, and compliance curricula. With access to a broad spectrum of learning options (including video, audio, books, bootcamps, live events, and practice labs), organizations can meaningfully increase learner engagement and retention. Skillsoft's offerings are delivered through Percipio, its award-winning, AI-driven, immersive learning platform purpose built to make learning easier, more accessible, and more effective. Learn more at www.skillsoft.com.
Media for IamtheCODE 
Camila Costa: camillas_costa@iamthecode.org
WhatsApp: +55 (31) 99608-4213