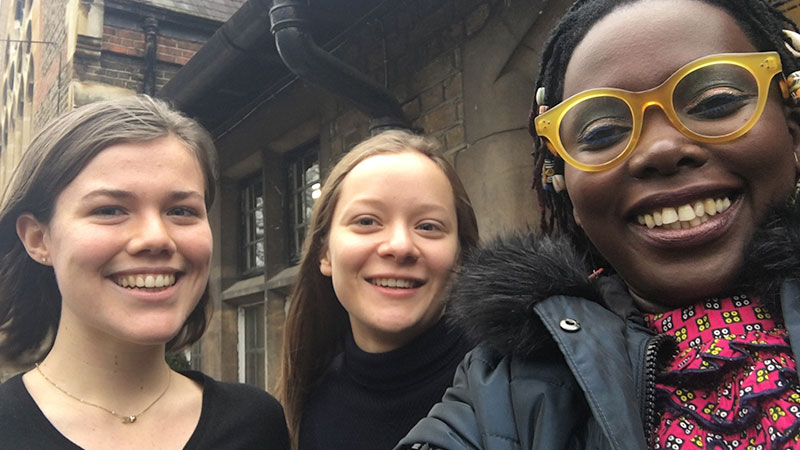 On Tuesday 24th March 2018, Marieme Jamme gave a talk at my school detailing her story, coding and sustainable development. Throughout the talk, I was struck by her sheer courage and fascinating work. My head teemed with questions. I put up my hand again and again, as Marieme and I talked back and forth about everything from the morality of developing nations forsaking industrial development to lower carbon emissions to the fundamental workings of a raspberry pi computer.
That night, I was so inspired by the talk that I was determined to contact Marieme again. I sent her an email asking if there was anything I could do to work with IamtheCODE. After a further chat, I got started writing some social media content on the incredible girls at the Kakuma refugee camp in Kenya and generating ideas on lesson plans.
On Thursday 29th of November 2018, as the last talk of a sustainable development lecture series I ran at my school, Marieme came in to an assembly of 500 girls aged between 15 and 18. She again highlighted her remarkable story and the power of coding and female education. Marieme's talk energised all who heard her, sparking excited conversations amongst teachers and students alike. In the days after the talk, I chatted passionately with a friend about Marieme's extraordinary story, with a teacher about the power of female education and with a younger student about the Kakuma girls. A friend even told me that Marieme's emotive story made her shed a tear!
As an 18 year-old girl in a relatively egalitarian society, I am deeply grateful for the education I have received. I, however, want all girls and women to have the same opportunities. The SDGs I am most passionate about are SDG 4, quality education, and SDG 5, gender equality. Women, who have long been marginalised in societies around the world, have so much potential for positive change. Educating women can give them greater confidence, reduce fertility rates, undercut infant mortality, improve child health, result in a higher age of marriage, increase women's labour force participation and enhance women's voice in politics. Educating women not only benefits women themselves, but also raises the collective level of development of entire societies. In Kerala, a progressive district in India, there is a saying: 'educate a boy and you educate one person, educate a girl and you educate a nation.' That is precisely the power of IamtheCODE and why I am so excited to play at least a small role in the charity's outstanding work in the future.