Created by Rosie and Olivia Roshier
We came to the iamtheCode Leatherhead Hackathon in October of 2019. After learning about the Sustainable Development Goals, we decided to focus on SDG 6 (clean water and sanitation) and came up with the idea of iamtheWater.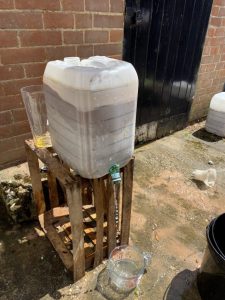 iamtheWater is a website which targets developing countries that have an insufficient water quality or supply. To encourage people to go onto the website we demonstrate how to build a simple water filter.  We then ask them to fill out a survey about local water quality. We  take the results and sort them via the JMP water ladder created by the WHO and UNICEF. We will map these results and use them to help water charities deploy aid.
We chose this idea because we learnt that around 720 million people do not have access to clean water. This idea was inspired by a camping trip and science lessons at school. We have done research and have built a prototype water filter and have attempted the three step method (settling, water filtration and UV disinfection) and tried the final result. For more information please go to our website: